Dealer Update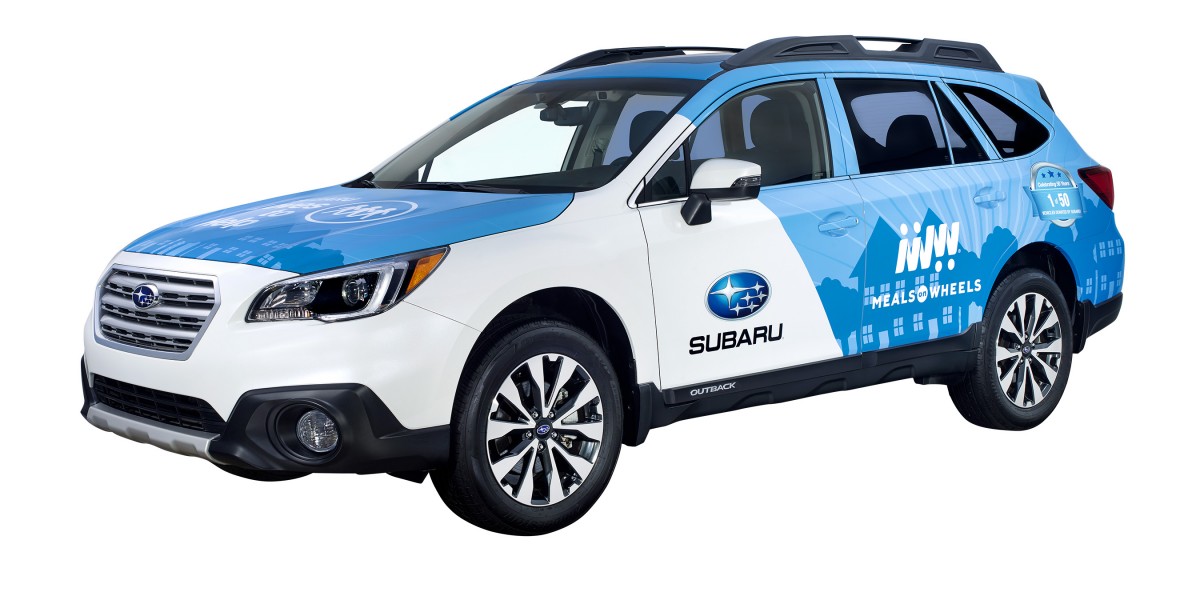 Generally you receive gifts for turning 50, but Subaru of America, Inc., would rather give them. The company announced it's donating 50 2018 Subaru Outback vehicles to Meals on Wheels, a nonprofit that provides meals to seniors across 39 states. 
"This generous vehicle donation will have an immediate and indelible impact on local Meals on Wheels programs and the seniors they serve – many of whom live in rural, remote and difficult to reach places," said Ellie Hollander, president and CEO, Meals on Wheels America. "This latest act of care and kindness further underscores Subaru of America's longstanding commitment to giving back to communities large and small."
Subaru has partnered with Meals on Wheels for nearly a decade via Subaru Share the Love, an annual drive that donates to local and national charities. The company's efforts raised more than $12 million for the charity and provided more than 1.7 million meals during that time. 
"We were pleased to break this announcement to our retailers as they do so much to help their local communities and showing them the first of 50 vehicles in the metal really brings the program to life," said Thomas J. Doll, president and chief operating officer, Subaru of America, Inc. "We wanted to celebrate our 50th anniversary in America in a way that is appropriate for our brand and are delighted to donate vehicles that will support local communities by combatting threats of isolation and hunger affecting seniors across the country." 
SUBARU '50 CARS FOR 50 YEARS' RECIPIENTS
•
City of Kenai/Kenai Senior Services, Kenai, AK
•
Homer Senior Citizens, Inc., Homer, AK
•
United Way of Central Alabama, Birmingham, AL
•
Senior Activity Center of Elkins, Elkins, AR
•
CareLink, North Little Rock, AR
•
Coconino County Community Services Department, Flagstaff, AZ
•
Meals on Wheels and Senior Outreach Services, Walnut Creek, CA
•
Service Opportunity for Seniors, San Leandro, CA
•
Gray Gourmet, Grand Junction, CO
•
Thames Valley Council for Community Action, Inc., Jewett City, CT
•
Meals on Wheels, Etc., Sanford, FL
•
Athens Community Council on Aging, Athens, GA
•
Senior Citizens, Inc., Savannah, GA
•
Metro Meals on Wheels, Boise, ID
•
Community Action Partnership of Central Illinois, Lincoln, IL
•
REAL Services, Inc., South Bend, IN
•
Meals on Wheels Nemaha County, Seneca, KS
•
Tri-County Community Action Agency, Inc., LaGrange, KY
•
St. Martin Council on Aging, Breaux Bridge, LA
•
Ethos Jamaica, Plain, MA
•
Eastern Area Agency on Aging, Bangor, ME
•
SeniorsPlus, Lewiston, ME
•
Benzie County Council on Aging, Inc., Honor, MI
•
CEAP Meals on Wheels, Brooklyn Center, MN
•
Putnam County Senior Citizens, Unionville, MO
•
Senior Services, Inc., Winston Salem, NC
•
Meals on Wheels of Durham, Inc., Durham, NC
•
Tabitha, Inc., Lincoln, NE
•
Catholic Charities of Northern Nevada, Reno, NV
•
Foodnet Meals on Wheels, Ithaca, NY
•
Meigs County Council on Aging, Inc., Pomeroy, OH
•
Westlake Meals on Wheels, Westlake, OH
•
Meals on Wheels of Metro Tulsa, Tulsa, OK
•
FOOD for Lane County, Eugene, OR
•
Meals on Wheels of Northampton County, Bethlehem, PA
•
Berks Encore, Reading, PA
•
East Cooper Meals on Wheels, Mount Pleasant, SC
•
Meals on Wheels Western South Dakota, Rapid City, SD
•
Smoky Mountain Meals on Wheels, Maryville, TN
•
Meals on Wheels of Johnson & Ellis Counties, Cleburne, TX
•
Meals on Wheels San Antonio, San Antonio, TX
•
Brigham City Senior Center Meals on Wheels, Brigham City, UT
•
Appalachian Agency for Senior Citizens, Cedar Bluff, VA
•
Waterbury Area Senior Citizens Association, Waterbury, VT
•
Whatcom Council on Aging, Bellingham, WA
•
Senior Life Resources, Meals on Wheels, Richland, WA
•
Independent Living, Inc., Madison, WI
•
Pendleton Senior and Family Services, Inc., Franklin, WV
•
Tucker County Senior Citizens, Inc., Parsons, WV
•
Uinta Senior Citizens Inc., Evanston, WY